Looking for Volunteers! And Retail Partners …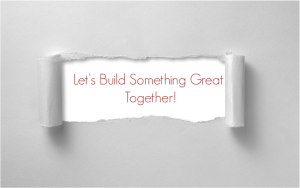 As Tennis for Good gets off the ground, I find myself with a basic decision. Do we want to build out in the old-fashioned way in which we, the project's owners, build something privately and then, once it's reached what we deem to be a ready-to-reveal starting line, pull back the curtain and show it to you? Or do we tell you what we want to do and invite you to join us … invite you to come on board and build it with us?
This hasn't been a close decision. Let's cocreate this project together. Let's build this with the power of community!
Do you have time or skills to contribute? Please consider volunteering! We're operating on a shoestring and that won't change until we've built up some momentum.
Do you have or do you know people with online retail businesses who'd consider partnering with us? Please contact us! As a retail partner for Tennis for Good, you'll get new 'eyeballs' on your business, and you'll also have the satisfaction of knowing that you're helping to put tennis rackets in the hands of people around the world.
Thoughts? Feedback? Ideas? Lay 'em on us!
We're all ears, except for the part of us that holds a tennis racket.
https://tennisforgood.org/wp-content/uploads/2023/02/Carl-Tennis-for-Good-logo-1030x699.png
0
0
Carl Frankel
https://tennisforgood.org/wp-content/uploads/2023/02/Carl-Tennis-for-Good-logo-1030x699.png
Carl Frankel
2023-06-06 11:40:29
2023-06-07 16:07:17
Looking for Volunteers! And Retail Partners …